Stafford's World Is a weekly radio programme,
presented by Mark Stafford
You can hear the show around the world on over 60 great radio
stations, such as 4WHO 99.7FM Queensland Australia, Skyline
Gold in Hampshire, Castle Radio in Spain, Radio KFM 96.3
Kingaroy in Australia, Tulip FM in Spalding, Lincolnshire, The
BLENZ 107.4FM in Stillwater, New Zealand, TD1 Radio in
Galashiels, Scotland, The Flash on DAB in Portsmouth,Oldies
Paradise on the Internet & many more stations..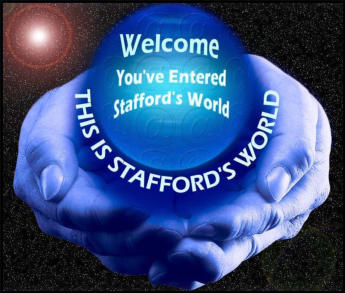 Stafford's World is a simulcast radio show available free-of-
charge for re-broadcasting on any radio station. The shows are
non-customised and contain no advertising. There are filler
breaks allowing you to substitute your own ads and promos etc.
Just drop an email to mark@markstafford.co.uk for more
information.








Easy Rock Paradise is a new internet radio station,
playing music from the slightly softer side of rock.
They put out Stafford's World programmes several
times a week.
Click on the player on the right to listen to Easy
Rock Paradise.You can hear the first play of all
Stafford's World shows every Sunday afternoon at 6pm
UK Time with a repeat at 4pm UK on Monday afternoons.
More details can be found here
h
ttp://www.easyrockparadise.com

Spring 2017and time for a long awaited update to the site!
Thanks to the many new stations that are now taking Stafford's World.
We will add these stations to the list very shortly.
If you are in the South East of England, I am happy to report that you can now hear Stafford's World on Ashford FM and also the
show has made a welcome return to BRFM on the Isle Of Sheppey. Look out for Stafford's World on that station on Monday
evenings on 95.6FM at 10pm UK Time.
Around the rest of the UK, there are many new stations taking the show. These include,
103 The Eye in Melton Mowbray, Radio Saltire on DAB in Glasgow, The Flash on DAB in
Portsmouth.
Stafford's World now has two brand new "home stations". You will hear the very first play of all
shows on Oldies Paradise and also Easy Rock Paradise. You can either tune in by clicking the
players on this website or visiting the Oldies Paradise website at www.oldiesparadise.com or the
Easy Rock Paradise website at www.easyrockparadise.com
Want to be the first to hear all Stafford's World shows?
LISTEN TO STAFFORD'S WORLD....
UPDATED STATION LIST
FOR THE FULL LIST OF STATIONS CURRENTLY BROADCASTING STAFFORD'S
WORLD CLICK THE LISTEN BUTTON ON THE MENU ABOVE OR HERE


Oldies Paradise
Oldies Paradise plays music from one of the biggest radio
music libraries on the whole planet. If you like the Stafford's
World Flashback Shows you'll love Oldies Paradise!
You can hear the first play of all Stafford's World shows every
Sunday afternoon at 6pm UK Time on Oldies Paradise with a
repeat at 10am UK on the following Saturday morning.
"OLDIES PARADISE - WHERE THE MEMORIES NEVER STOP"
Click on the player on the left to listen to Oldies Paradise.
http://www.oldiesparadise.com/index.htm