Internet Radio On The Move
- Just How Easy Is It?
Over the past three years I've got very much into mobile internet radio listening.
I have to say that it is one of the most exciting aspects of radio listening that I have
experienced for a long time. Instead of the limited choice of terrestrial radio listening, suddenly
the whole radio world is there at your fingertips in your car.
Music radio from California, USA or Melbourne in Australia. Talk radio from New Zealand,
sports radio from anywhere in the world. It's all there with you as you drive along.
But, when it comes to internet radio in a car the rules are different than they are with home
based internet radio listening.
Here are a few things you need on your side:
1.
A good mobile internet service provider with great coverage of the main area you drive
around.
2.
Stations with quick access and fast stable streams. By fast I'm not talking bandwidth but access time from clicking the stream to
loading.
3.
A phone with easy access to the internet radio streams and the ability to re-start the stream without taking your eyes off the road!
4.
Good streaming software that will re-connect once the stream is lost.
5.
Great patience as you will get frustrated with it!
Given all that stick with it, it will be worth it.
Let's take them in order.
I live in the South East of England and use "3" as my mobile provider. Their coverage on the main motorways and into South London is
excellent.
I have a 1 Gig Internet monthly usage package on my main phone, which is a Nokia Express Music 5800. Software wise I use a piece of free
software called Tune Wiki.
I also have an older phone with a cheap £5 a month Internet only package and between them they cover a month's listening, with a mid-
month swap over.
On mobile internet in the car there has to be a compromise. 128k stereo streams sound great, but eat up bandwidth and will give you
connection problems.
Lower than 64k streams take us back to the AM days. Something I just can't live with.
For me the choice is 64k mono not stereo. This gives me good audio quality up to FM quality or better and pretty stable listening.
From then on it's down to steam access. It's such a different world to listening at home to internet radio. Stations, that are rock solid at home
buffer and drop out in minutes on the move.
Amongst it all you will find the good ones that fit your listening needs. That's where patience comes in and lots of it. If you are not a patient
person avoid mobile internet radio at all costs!
The software I use on my main phone, Tune Wikki, is excellent in re-connecting and also has access direct to Shoutcast allowing searches
for thousands of stations direct from the phone. Other playout software like Nokia Internet Radio is limited to the software provider's
database.
If you are using Tune Wiki, remember to decline the choice of lyrics and album art as these will eat up bandwidth.
I currently do around an hour's drive into South London every day. Most days I do this with maybe only a couple of quick automatic re-
connects from the phone. Now and again it needs a bit of help. But, not often.
Give it a try. Mobile internet is very cheap in the UK and a 1Gig monthly package will only cost you around an extra £5 on your phone bill.
That will give you around 2 hours of listening a day at 64k mono. Enough for most people's commute to work.
So, free yourself from the confines of terrestrial radio and enter a new world of listening.
I certainly, would never be without it now.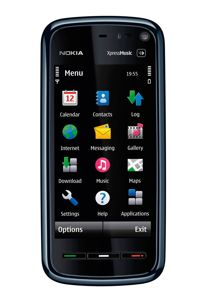 What's Wrong With My Radio?
Do you ever find yourself on a long car journey pushing the buttons on your car radio, in a
vain attempt to find something that fits your ideal entertainment for the journey ahead? Or
maybe, fiddling with the radio in the bathroom looking for an alternative to "radio FM local"
that someone else has left it tuned in to.
Inevitably, for me, both of these situations leave me tuning about and never finding
anything that I really want to listen to. I always think, "what's wrong with my radio?, there's
got to be more on offer than this".
Is it that I've got older and more cynical, has the magic of radio just worn off for me or has
radio changed beyond recognition, from those days when I feel asleep with my little plastic
radio earpiece in my schoolboy ear listening to the magical sounds of Johnnie Walker on
Caroline South?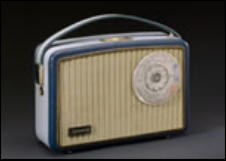 Let's go back to the start and my first recollections of radio. I suppose it would have been around 1961 or so, I distinctly remember
coming home from school for lunch and there being some panel game on the radio. It was turned up loud and was the centre of
attention in the living room as we ate our lunch. Then on many evenings, the TV was switched off and the radio was on to
entertain the family. But now it was music and I guess it must have been Radio Luxembourg.
Bit by bit, accompanied by the magical sound of the new era in music of The Beatles, The Rolling Stones and Merseybeat, I
started paying more attention to the box with the glowing green light in the corner of the living room. I wasn't allowed to touch it,
just listen. The closest I came to being in charge of a radio was when we went out in the car and someone had the job of twisting
the big portable radio around to match the direction the signal was coming from to the ever-changing direction of the car! But, it
was a hopeless task, I'd end up growing up on brief snatches of the exciting new music around.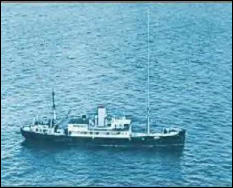 By now, it was 1964 and things were changing, my mum was tuning the radio into new stations.
What was this Radio Caroline and where did this Radio London come from? I didn't know, all I
knew is that one day on Radio Caroline they said they were sailing around the coast to move
their ship to a new location, broadcasting along the way. This was fascinating stuff, much better
than those old panel games! And the music was getting better and better as well.
One week in early 1966, I had a revelation. I was sick in bed and as a treat got to have the radio
on my bedside for a whole week. It was mine! I found more stations, I listened all day, I got to
know the deejays. I got to know the music, it was Manfred Mann with Pretty Flamingo, The
Beach Boys and Sloop John B, Roy C with Shotgun Wedding and The Mamas & The Papas and
California Dreamin' and loads more. Who wants to go back to school, this was heaven!
I was addicted, to both the music and the radio stations. Now and again we'd visit my grandma and grandad on the Lincolnshire coast and
they had even more different stations there, like Radio 270 and this big powerful one called Swinging Radio England with these amazing
shouting American deejays". I just had to get myself a radio to see how many more stations there were.
So, I saved my pocket money and bought a Zephyr transistor radio, a little white one. It was wonderful. I didn't need my parents to provide
the entertainment - I was independent. It also came with this little plastic earpiece, so from that day on me and my radio were never apart.
At night, I worked out that you could also hear Radio Scotland and get both Radio Carolines, not just one. I started buying some of the
records I heard, but the radio kept me finding new ones every day.
I
'd worked out these were pirate radio stations but that only made them more exciting. I now
became a fan of the deejays as well as the music, Johnnie Walker was my favourite, maybe
because he was on at night when I always listened in "under the bedclothes" with my transistor
radio.
He had Frinton Flashing, the Kiss In The Car Spot and his Goodnight Spot. It was great radio.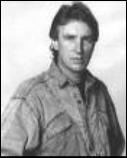 I
never thought the pirate stations would ever go away, but one day they did or at least most of them did. It was the black day of
August 14th 1967, and Harold Wilson's Labour Government closed down OUR STATIONS. How could he do such a thing, I hated
him for life for that.
But, at least Radio Caroline had still survived and the BBC said they had something new for us, in Radio One. It was of course a
big disappointment at first, for us former pirate fans, it only broadcast for part of the day the rest of the time it became Radio 2.
Yes, there were some of our pirate favourites there like Kenny Everitt and Dave Cash and Emperor Rosko. But it just wasn't the
same, it was full of bands doing sessions and singing their hits but not like the original or worse still it was someone unknown
singer covering the latest hits with the Northern Dance Orchestra!
So, it was back to Caroline and Johnnie Walker and Robbie Dale. Until one day in March 1968, when suddenly there was nothing
there. What had happened? There was no Internet to find the latest radio news instantly, so it took a week for me to read in the
NME that the two Caroline ships had been towed away to Amsterdam as they hadn't paid their tender company's bills.
I was heartbroken, what would I do now without my Radio Caroline? We'd had it for four years and never thought it would go
away. Oh, well, better give this Radio 1 a try, it was a bit better and gradually getting itself together. Then late one night, I was
tuning around with my faithful transistor and came across an English voice playing Dutch adverts. It was good old Robbie Dale,
this time on the Dutch Offshore Station Radio Veronica. He was on most nights at 9pm, hey, it was just like old times again.
So, throughout that year and the next I got by with Radio One and Robbie Dale on Veronica.
Radio One was getting better but I still missed the magic of Caroline.
The end of 1969 came and by then, I had become a "radio anorak", dreaming of the return of a
pirate ship with English deejays. By then I'd realised that Robbie was not on the Veronica ship,
no one was, they were all on tape! So, I scoured the columns of Disc & Music Echo and latched
on to the rumours of a new pirate ship. But, we'd had many of those before over the past two
years.
Then one day in early 1970, it happened! The familiar voice of Roger "Twiggy" Day told us that
we were listening to a test transmission from Radio North Sea International from the ship, the
Mebo II. The anorak was back in business. Unlike, Radio 1, this new station was far from a
disappointment it was wonderful radio.
They were playing different music, the music world was changing, we wanted to hear album tracks along with the singles. Led Zeppelin,
Chicago, Blood, Sweat & Tears we had them all on RNI, along with the hits.
I was a bit older now and even more into the music, I loved every minute of 1970 radio-wise. RNI educated me musically and entertained me
throughout the summer. But, it faced some big battles. It was jammed by the British government led by that & "damn" Harold Wilson, God I
hated him! Why did he hate radio and pop music so much!
Hang on, things were happening, we were going to have an election in June, and if we were lucky we could get rid of those nasty Labour
people with their evil leader "Chairman Harold" and get those nice Conservatives in, they loved radio and didn't mind us teenagers hearing
our music on the radio!
I was too young to vote, but for the first time in my life I cared about politics. For me it was black and white, the Tories represented freedom of
choice and supported independent radio, in fact they said we could have dozens of radio stations if they got elected. As for Labour, my young
teenage mind saw them as Communists in disguise. They didn't want us to listen to anything but the government-controlled BBC.
For the next few weeks, nothing mattered more to me that the Tories winning the General Election! I had no idea about the politics behind it,
only that, Wilson represented evil and the Tories represented freedom.
Every few days during the election campaign a game went on, RNI would be jammed by the Government transmitter in the Medway towns,
RNI would change frequency without warning and we would track them down and listen clearly for a day or so until the jamming came back.
In hindsight, it was crazy, we were listening to music with a constant "beep,beep,beep" over the top of it. If you turned your radio around you
could null the jamming out a bit, in the Midlands were I was listening. But, it was a real struggle. We couldn't wait for the election night and
our freedom from evil Harold!
Well, Election Day came and Wilson's Labour Government were defeated by Ted Heath's Conservative Party and then we waited…and
waited…and waited! But still RNI was being jammed, but this time by the Conservative Government. We blamed the civil servants for
not turning off the jamming. After all, they had got their jobs under a labour government so they must be labour supporters.
In the end the RNI ship, the Mebo II, sailed back to Holland and the jamming stopped. Luckily, as I was now living in Kent we got a good
powerful clear signal even from the Dutch coast. But it didn't last long, towards the end of September 1970, one evening RNI announced that
they were to close at 11am the next day. To this day I remember the reason given was that it was to save Radio Veronica as the there was
pressure in the Dutch Parliament to act against the Dutch Offshore Radio stations.
In later months we found out that RNI had in fact been paid by Veronica to close, so it wasn't such a heartfelt brave gesture after all. So, in
late September 1970 my source of music entertainment and education (RNI introduced me to great album rock music for the first time) was
gone.
R
NI eventually returned in early 1971, but it was never quite the same. It shared the service with an all-day
Dutch service and lacked the direction and musical quality of the 1970 era. But at least we had musical choice
once again.
On the 30th September 1972, RNI was joined on-air off the Dutch Coast by the radio ship Mi Amigo, the home
in the 60's of Radio Caroline. The ship had been smuggled out to sea after over four years in harbour. Now
things started to get interesting, after a few weeks of testing in December 1972 regular programmes started
firstly as Radio 199 and then from Christmas onwards as the returning Radio Caroline.
After many technical problems and a spell under the name Radio Seagull, Caroline settled down to a format of
album rock music and my musical education continued. Throughout 1972 and 1973, my radio dial switched
constantly between Caroline and RNI.
Then in the autumn of 1973, Britain got its first commercial radio stations, Capital Radio and LBC. Capital added further choice and Roger
Scott and Nicky Horne became compulsive listening.
As 1974 arrived, Radio Atlantis was added to my listening list and the summer of 1974 arrived with a virtual feast of listening choice. But
again it was short-lived. August 1974 saw the long awaited Dutch Government's legislation being passed against the offshore stations and
as we entered September 1974 only Radio Caroline remained on air, however, having moving the Mi Amigo to the British coast the signal
in Kent was superb. Time for my musical education to continue!
But, these were tough times for Caroline. The station went off air regularly and presenters were forced to cover longer and longer shifts.
Great if you liked the presenter, awful if you didn't! But at least the music was still good.
Whatever, the situation my bond with the offshore stations was cemented. Around this time, Caroline deejay Andy Archer came up with the
term "anorak" to describe the fans who braved the seas to go out to see the station in little boats from the British coast. As I did that trip a
couple of times, I guess by then I must have become one too!
Eventually, the holes in the bottom of the Mi Amigo just could not be patched up any longer and on a stormy night in 1980, the ship drifted
onto a sandbank and started shipping water to the point it had to be abandoned. It subsequently sank and for me my addictive first era of
being a radio anorak died with it.
When the new Caroline ship the Ross Revenge arrived in the summer of 1983, for me, it did not hold the same passion. Maybe it was the
music, now less album related and more Top 40 or maybe it was because by then I'd gone from being a listener to being a broadcaster.
Anyway, although Caroline presented some good programming in the period from 1983 to 1986, by 1987 things had changed considerably.
Instead of being an innovator it had become a safe predictable Top 40 station. But the difference was that in 1987 and 1988 the charts
were full of the worst "dross" imaginable, it was the era of Stock-Aitkin-Waterman, Kylie, Jason and Bros! And worse still, Caroline was
playing it. It seemed pointless, why copy the string of local radio FM stations that by now were operating across the UK.
Caroline's transformation into a pop station was mainly due to the success of another offshore radio station that anchored off the English
coast in the mid-80s, Laser 558. Somehow, although I loved US radio with a passion, I just didn't take to Laser. I think it was the high
rotation that did it, or possibly the fact that at their peak the music charts were in a sorry state. Anyway, when Laser finally died I didn't shed
a tear it left very little mark on me. In fact, I blamed the "musical demise" of Caroline on them. As firstly Caroline tried to emulate some of
the poppy elements of their format and then eventually when Laser closed they cloned it "lock stock & barrel".
At this point Caroline survived mainly due to the income from the Dutch broadcasts that also went out from the ship. In August 1989, Dutch
and British government officials illegally boarded the Ross Revenge and the Dutch representatives embarked on an orgy of mass
destruction on the transmitting equipment. Something the station never recovered from. When it was all over, only the English side of
Caroline continued. Without the outside income things became a giant struggle.
The end eventually came for the Ross Revenge as an offshore broadcaster in 1991, when it ran aground and was towed into my home
town port of Dover, although the strict truth was that the station had died a number of months earlier when transmissions ceased leaving
just a caretaking crew onboard.
Despite the dreams that we've all had of a return to the golden days of offshore radio, we have to accept that the magical offshore radio
days are gone.
So, what would those pioneers of the 60's who went to sea and challenged the BBC monopoly and eventually created a system of
independent commercial radio think of UK radio today?
Standing back and looking at the choice of main-steam radio on offer in 2010, I envisage that the cry of "what's wrong with my
radio, it keeps playing the same songs over and over again" would be heard.
As far as popular music radio goes, I currently have the following available on mainstream radio (FM & AM only) in North Kent::-
Heart, Kent (Was,Invicta FM - Originally conceived as a Kent-wide ILR. Now shares output with other out of Kent Heart stations )
KM-FM Medway (Originally conceived as localised-town broadcasting, now simulcasting across most of Kent)
BBC Radio One
BBC Radio Two
Absolute Radio
Gold
BBC Radio Kent
Being in North Kent I get a certain amount of over-spill FM reception from London stations but as I am outside of their target area,
I've ignored these stations.
So, what about choice? Well, the KMFM stations mirror Heart,Kent music wise in 75% of their output and both cross-over with
Absolute on around 60% of their output. Gold plays ultra-safe oldies which also form almost all the core of the gold content on
Invicta, KM-FM and Absolute.
All of the stations run small playlists. I believe that KM-FM has the largest at around 1000 songs and from there it descends down
into as low as a few hundred for what was the core library for (Kent's) Capital Gold. It was around 300 songs on rotation at one
point, however, with the recent re-branding to Gold this may have changed. But, I doubt it has increased significantly.
So, after all the battles to get it, what does it offer me in 2010? When it's all filtered out, I would say commercial radio offers me
just 1,500 different songs on my radio, week after week at best. These would at best rotate at a maximum of around four to five
days and at worst every two days.
"It's musical hell!!!"
In an ironic twist it's the BBC that is the shining light. Offering specialist shows, left-field music at times and the words that strikes
death into the heart of the professional music programmer, SURPRISE AND VARIETY!!!
Where did it all go wrong? Well, in many ways high-rotation Top 40 radio has existed for decades. But, amongst it "maverick"
presenters were allowed the freedom to be musically-creative. In addition, in the era prior to computer-music-scheduling the
formatting by its very nature couldn't strangle freedom because it was hard to work out exactly what was going out on air.
Radio presenters are like caged animals they will work a way out of any confined corner musically! In my early days as an ILR
presenter with Selector programming in place, but music played from CD and vinyl, we were "snoop-taped" by the PD but I
eventually worked out that you could slot songs in between the playlist ones, but just not ID them!
Nowadays, the computer logs everything that's played and deviating from the playout log is instant dismissal. The result is that the
"music-jocks" have deserted commercial radio. The good ones have ended up on BBC Radio 2 or on a BBC local like Radio Kent.
These sadly are the last bastions of the free radio that was fought for over 40 years ago. How ironic that is.
I wrote somewhere else on the internet a few years back, that, if every commercial AM & FM station in the country closed I
wouldn't miss them much. I advocate giving all the frequencies back to the BBC for them to produce five or six national music
stations. One rock, one gold, one, one soul/dance etc. I'm sure the net result would be vastly superior to what we have at present.
Hopefully, they would ensure that only musically knowledgeable presenters who had a passion for the music where heard on air.
We could have local opt-outs for two minutes an hour for the equivalent of the paltry token local output that exists in so-called
local commercial radio.
Summing the whole thing up, "what's wrong with my radio" is that the commercial interests controlling it have been allowed by the
regulators to turn all their pre-licensing promises into completely worthless pieces of papers. The end result is that all that is left is
endless moronic repetition of a handful of songs aimed at the "Big Brother" watching generation. All serious minded music
listeners have either deserted commercial radio for the BBC, niche internet and satellite radio or their own ever-growing digital
music collection on their ipods.
One day commercial radio will wake up to the fact that they have blown the great legacy they were given. By then it will be too
late, their listeners will have become self-sufficient musical entertainment wise.
The Stafford's World Blog
This is the area of the site where I can air my views on various stuff!
Not just radio, but also music and the world in general!
More here soon!